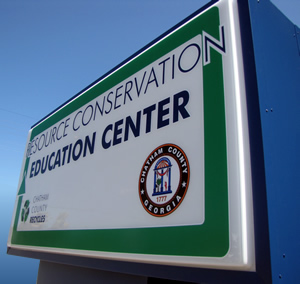 Building products of the Resource Conservation Education Center:
Recycled Glass tile flooring
100% recycled sheetrock
VOC Free paint
Formaldehyde free bamboo flooring
Duel flush toilets'
LED Lighting
Occupancy Sensors
Spray Foam Insulation
Mitsubishi split HVAC system with independent room Temp. control
5 KW PV Solar Energy System
Solar hot water heating
Some of the duties of the Coordinator:

Implements public education and outreach programs related to resource conservation, solid waste, recycling, waste reduction, yard waste and litter programs.

Development of programs and initiatives which will reduce solid waste through advertising, Public Services Announcements, special promotional campaigns, brochures, and hand-outs in order to increase public awareness and participation in waste reduction and resource conservation initiatives.

Plans and schedules events, programs, and special out-reach community workshops on a monthly basis in order to fully utilize the Resource Conservation Education Center and increase the community's awareness of the Center and what it offers.

Operational Guidelines
We engage individuals by responding to their own unique needs and goals.
We offer information and programs across the full spectrum of natural resources conservation opportunities.
We provide a continuum of opportunities and encourage individuals to grow from entry level actions to become conservation leaders within our community.
We work within Chatham County in order to provide local models for replication throughout Georgia and beyond through innovation and success.
We measure our success both in terms of individuals engaged and natural resources conserved (outputs and outcomes).
We annually review our strategic plan and community needs to ensure a sustainable and relevant future for our organization